Day 3 – November 10th
The day started with an early breakfast at our "new" hotel, the Mekong, in Siem Reap. There are more Americans here than there were in Phnom Penh. In fact, there are just more tourists here overall. They're mostly backpackers, here to see one of the most famous world heritage sites, a 12th century Buddhist Monastery called Angkor Wat.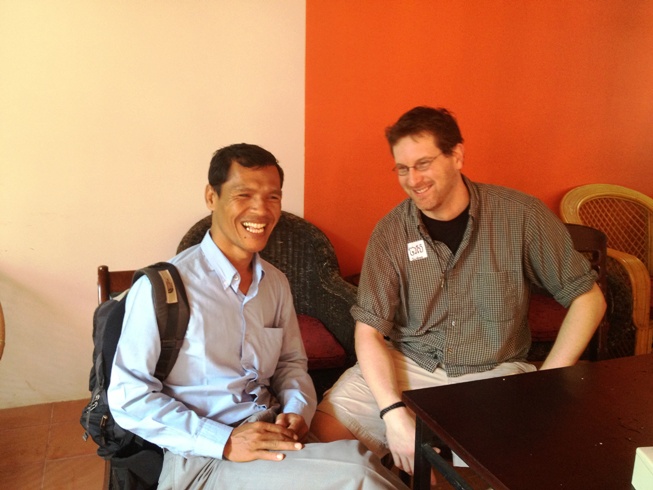 After a quick stop at a local bakery to pick up a bag lunch, we were on our way to a small village on the outskirts of Siem Reap called Snore. Pronouncing the name of this village has presented me with a constant headache since we got here. It's pronounced "Schnau", like the first part of the word "Schnauzer," although I look forward to several comments on this post telling me I'm still saying it wrong. One day, I'll figure it out.
The ministry in the village is both unique and fascinating. It's largely untouched by the Western world, and because the road is so narrow, they rarely ever see cars, let alone busses. As we trekked down the road, curious stares made their way through the windows of our bus as passers-by wondered to themselves what strange breed of giants needed this enormous vehicle to get around.
Snore is a small village – very rural. The landscape is spotted with cattle, which are only used as draft animals to plow rice and carry loads to and from the market. Most of the buildings are constructed from bamboo or grass, and are on tall stilts to protect them from flooding during the rainy season.
I'm afraid at this point I have to retract most of what I wrote yesterday about the Church here. Pastor Samuel has been here for two months, doing mostly evangelism work among the 750 or so locals in the village. He's got his work cut out for him. Most of the people here are Buddhist by tradition, and the monastery just a half-mile or so up the road is not taking kindly to the Church's mission. After all, the monks rely heavily on the people of this village to feed and clothe them.
Not surprisingly, the faithful welcome the persecution and see it as a validation of their conversion. It calls to my mind the culture and environment of the early Church. There is a oneness here among the faithful that's very uplifting, the kind of unity that's only welded through adversity.
The kids here are hilarious, in that (1) they have no idea what to think of me and Nat – two enormous white guys towering over them and smiling like we know who they are, and (2) they can spend hours playing simple games with either a string of rubber bands or a handful of marbles. I discovered the hard way that I'm not as good at shooting marbles as I remember being years ago. Who knew that was a skill so easily lost?
The school itself is amazing. It's the nicest building in the village by a long shot, and houses four classrooms, only two of which are in use because they only have two teachers. There must be 450 kids in Snore, and in many cases their education is the catalyst the Holy Spirit uses to draw their family into the Church.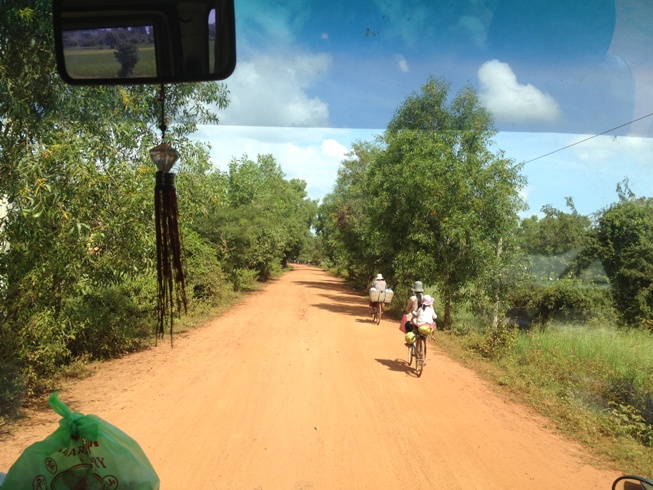 So, in the morning, the ladies on our Mission Team: Pat, Connie, and Nita, taught the women of the village how to paint. They connected this quite effectively with the uniqueness we all have as God's people, and the unique way God loves each of us just as we are. We prepared for 20 women; we ended up with 45. What a blessing!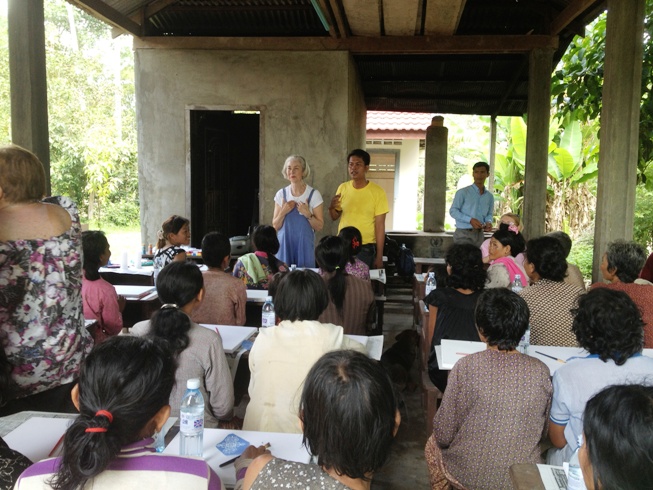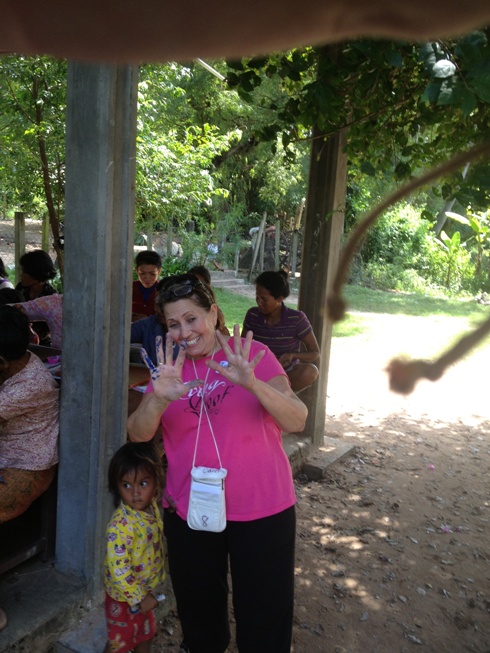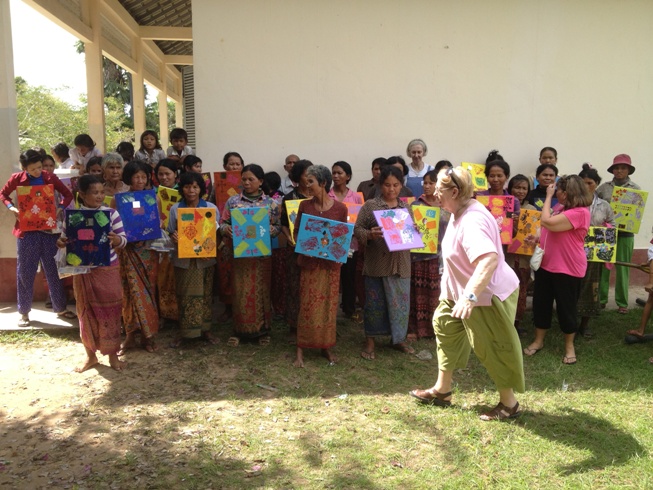 While the ladies were busy painting, George and I darted off into the village to look around. Who can resist an hour or so of wandering off to learn about a new culture? We stumbled upon a little rice mill housed between the stilts that held up a little farm house. The guy who ran the mill was nice enough to humor me and let me "help" him for a minute or so.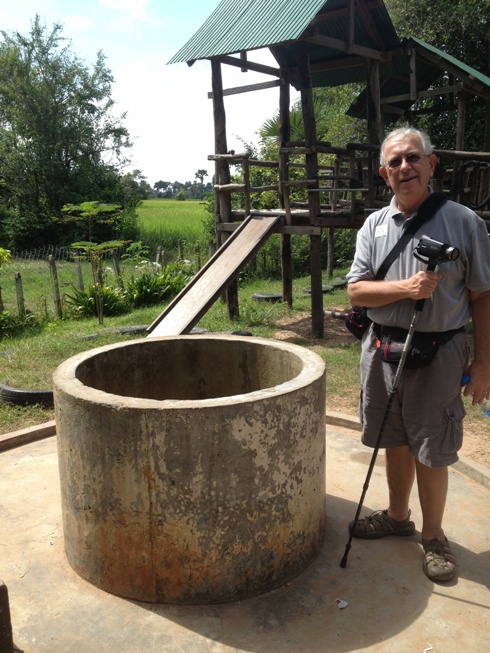 By the time we got back, it was time for lunch. After twice asking where to find some local flavor, Pastor Samuel finally caught my hint and shared his lunch with me – a simple meal of rice and boiled mussels, along with a delicious bamboo shoot full of coconut rice and beans.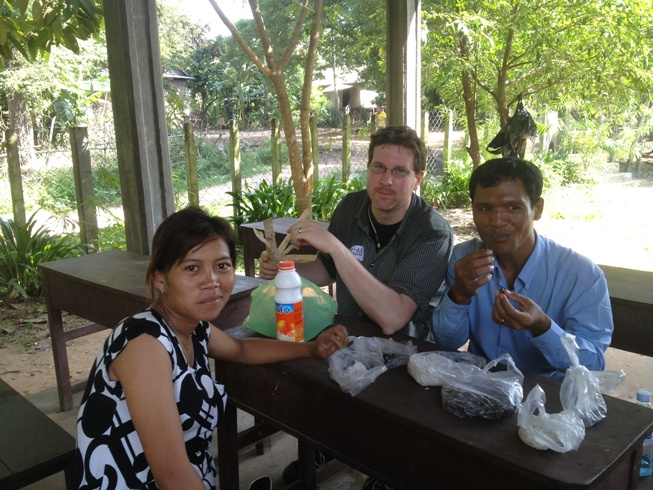 We split the afternoon session into two groups. The ladies stayed with the women – another group of around 30 – and I took the men up into the Crow's Nest of the Jungle Gym for what I thought was going to be a lively discussion about what it means to be a godly husband and father. Again, I refer you back to my initial mis-conception about the ministry in this particular village. One of the men, a hilarious middle-aged gentleman named Pak, managed to inform me that they had only heard rumors of a man named Jesus, and had come to discover who He was. I could almost hear my notes fly out of my Bible and into the rice fields. We called an audible, and started at the beginning. By the end of an hour, all nine of them were baptized right there in the Crow's Nest. I was reminded of the conversion of Cornelius from Acts chapter 10: Pastor Samuel, our own little St. Peter standing and delivering the Word of Christ to these dear men in the language they knew, the Holy Spirit working in them to cling to it and believe. It was a very moving afternoon
It's a rare thing in the villages for a man to come to faith. It's usually the women and the kids whom you'll find worshiping in the local churches. Pastor Samuel told me that this was the first time any of the men had come to participate in "church stuff," so please pray that the Lord will draw them to continued and constant spiritual growth.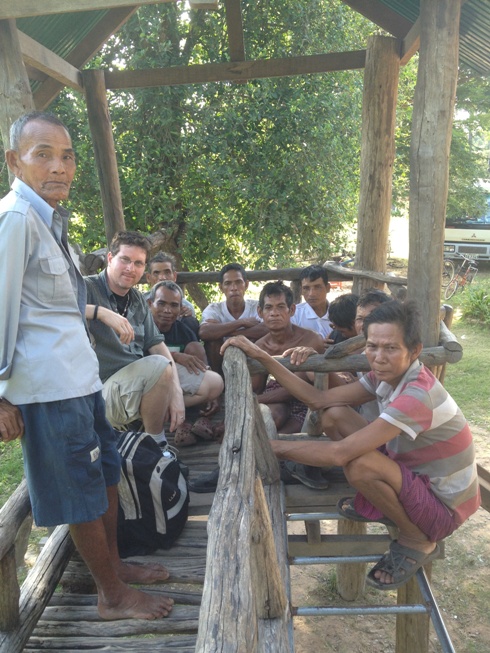 It's often difficult to paint a tangible picture of where our mission dollars at Trinity go. Sometimes, I know, it feels like we just write a check that disappears into some worthy mission's operating budget, while the real end-product remains a complete mystery. Well, this is the end product. A month ago, we bought four water filters that will provide healthy, clean drinking water to the people of Snore. They cost $38 each and will last around five years.
In John chapter 4, Jesus has a conversation with a Samaritan woman at a well outside a small village, where He offers her "living" (read "running") water. For us, water is a fairly common commodity that we sometimes take for granted. I go to my faucet, turn a little handle, and pure Memphis drinking water comes a'flowin' out. Not so in Snore, or really the vast majority of the planet. The point of reference for Jesus' offer to the Samaritan woman is largely lost on us.
Where do you find "Living Water" in Snore? Well, now the answer is simple. The cleanest water is at the Church, and the people of the village know it. What a wonderful opportunity to share the love of Christ with a community who's just beginning to know Him. That's where $152 of our mission dollars went, and believe me we got our money's worth.
All in all it was a very hopeful day. The Church's mission is alive and well here. It's well-organized, well-run, and driven by a sense of prayer and a contagious enthusiasm for the work of God. The local pastors and missionaries are doing a wonderful job, and it was an honor for us to come and lift them up today. So often groups go on trips like this one, preach to crowds and tell the story of Jesus, they baptize tons of people, get all fired up, and then, just like that, they're gone, leaving a group of newly-baptized children of God to fend for themselves in the spiritual wilderness. What we're dealing with here is, to my mind, the ideal situation for any mission group. When we leave, there is a church that stays, one that continues to shepherd and disciple the infant faithful, one that continues to surround them with Word and Sacrament. Theirs is the hard work, theirs the noble task and the sacred trust.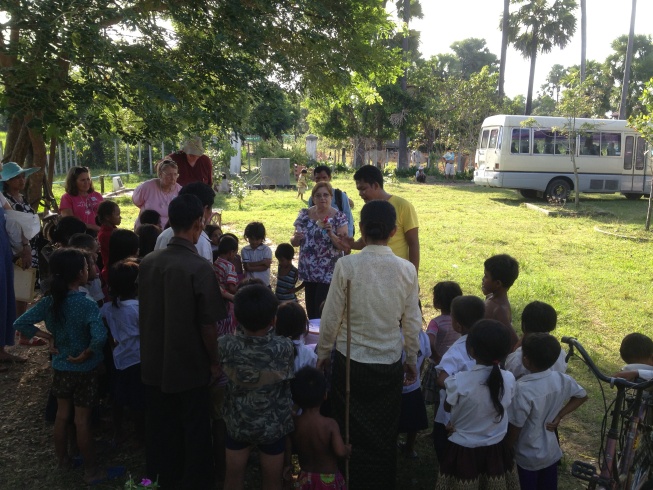 Tomorrow we're off to Angkor Wat for a prayer walk, and then back to Snore for worship at 2:00. We're praying God's blessings on our worship at Trinity tomorrow, and will be thinking about you from afar. More to follow tomorrow. For now, it's definitely time to rest… Christ's Peace, ~ Pastor