Day 6 – November 13th
Today was a day of good-byes.  I have a good friend named Yohanna who's a pastor in a far away place whom I'm nearly certain I won't see again in this life.  I remember saying goodbye to him years ago and processing the finality of the word, when he said to me, "My friend, I will see you in heaven."  That stuck with me.
Our team has gotten pretty attached to the village of Snore, and even more attached to the children who live there.  I've gotten to talk quite a bit with Pastor Samuel, another brother in mission, and have come to consider him a dear friend.  If nothing else, we'll all see one another again in heaven.
We had a much larger group today than in days past.  The 90 or so children who showed up for the morning session were more than quadruple the number we expected, not to mention the fact that our projects were intended for 15-19 year olds.  I got a little suspicious of this plan when I noticed the absence of this particular demographic on our village tours.  Modify and adjust; that's the name of the game.
So… we split the kids into two groups, modified and adjusted.  Connie and Nita took the little ones outside for another round of sock-puppet-making.  They loved it!  The funniest part of it all, however, was without a doubt watching them teach line-dancing lessons (sans music) while waiting for the puppets to dry.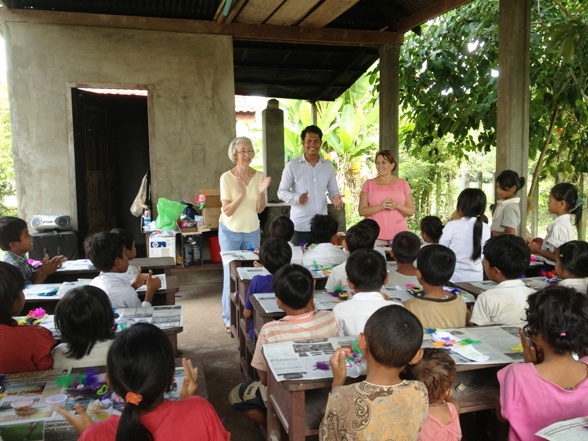 Inside the schoolhouse, Pat was patiently teaching the bigger kids how to make bracelets.  It proved a project too difficult for Nat and me, so we just wandered around pretending to help, explaining again how God makes beautiful things out of the twists and turns of our lives, even as we're forever unable to grasp His plan for us.
I must say, I'm particularly impressed with George.  With his pronto-pup-sized fingers, we taught one little girl (who's hands were about the size of our 8-month-old son's) how to weave a bracelet around those little fingers of hers.  It was wonderful to see that.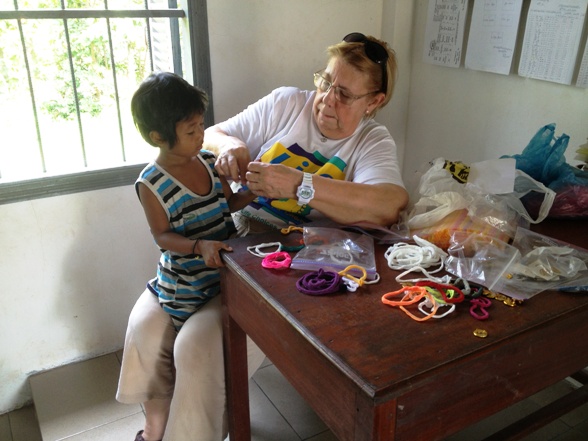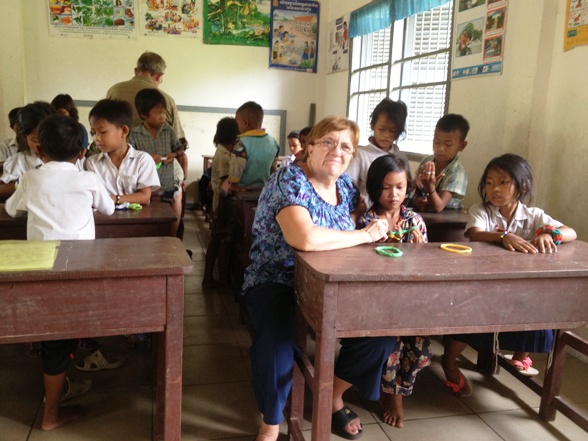 There's a t-shirt that the people here wear quite often.  Printed on the front are the words "Same Same."  In a way, people are the same all over the world.  For the most part, we all want our kids to have a better life than we do, we want to provide for our families, we want to love and to be loved.  People are people… … sort of.
The back of the shirt tells the rest of the story; "But Different," it says.  Too often we try to cram all of humanity into one common, universal stereotype because it's so hard to fathom in this great big world the overwhelming variety of worldviews, the sheer number of different mindsets that make us who we are.  We are, at our core, tribal people who each see the world in a way that's limited, not only by our own life experience, but also that of our ancestors, and their ancestors.  We seek commonality, I think, as a way of affirmation, in order to validate our worldviews.
The truth is, we don't have to be the same. Our commonality doesn't have to be found in our worldviews, it doesn't have to be found in our cultures or in our value systems.  We are one people bound together in the unity of Christ Jesus, in the family of God, and that's all the commonality we need.
We celebrated that unity after lunch with a time of prayer and worship to close our time in the village, as a way of saying good-bye.
Each member of our team had a time to share what their trip meant to them, as well as to refresh the Gospel-message from each project.  I closed the worship by teaching the kids – most of whom had been baptized the Sunday before – how to make the sign of the cross as a reminder to them that they belong to the Lord.  I pray that they will continue to discover the fullness of what the Holy Spirit gave to them in their baptism, even as we all continue daily to discover the riches of God's grace given in that most blessed sacrament.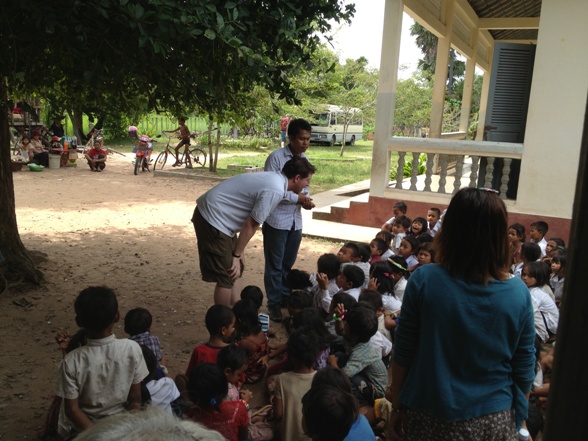 As a final reflection on the life and culture of a nation still coping with the affects of a recent genocide, I see a lot of similarities between the mission field in Cambodia and the mission field St. Paul encountered in the 1st century.  There are pagan temples everywhere.  The people here are culturally entrenched in a strange mix of Buddhism and Hinduism.  There's a strong Muslim influence creeping in throughout mostly urban communities.  At the same time, Christianity is beginning to take root in some of the more rural villages.  The harvest is plentiful.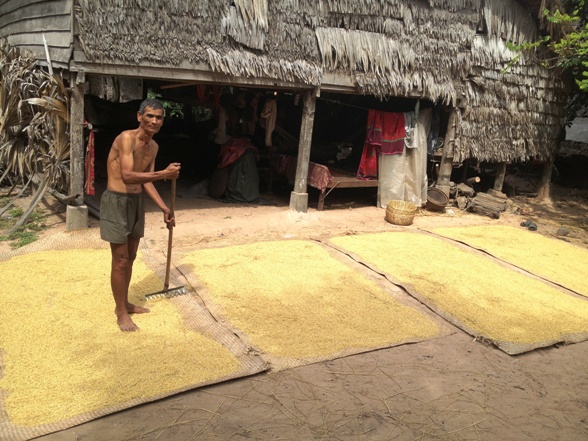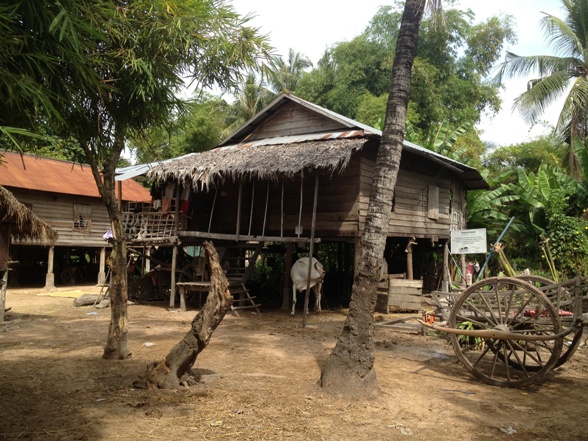 There's another strange tension in the mission field here as well; one that might have translated itself fairly well in some of the pictures I've posted.  You look around and you see poverty – everywhere.  Our capitalist industrialism tugs at our hearts and begs us to fix it, to make it right, and to bring these poor souls a better life… a life with more money; more stuff.
This tension in mission is a reflection of the tension we have within our own souls.  The truth is that Jesus does not relieve earthly poverty.  In fact, He calls us to it.
The sad truth here, then, isn't that the Khmer people don't have much. It isn't that they live in grass huts, or sleep on the ground.  None of that really changes upon conversion, and it's not the real problem.  The sad truth is that they have never heard the name of Jesus.  Truth be told, this is a much easier problem to alleviate.  Jesus – not money, not McDonald's and Wal-Mart, not business school, not industrialism – Jesus is the only answer.
Tomorrow, we begin our three-day journey home.  We'll spend some time in Phnom Penh getting to know the rest of the LCMS staff, do some relationship-building for future trips, and hopefully get some sleep.
So, this will be my last blog entry for our mission trip to Cambodia.  Be sure to mark your calendars for Sunday, December 2nd at 9:00 as our team will spend our Bible Study hour sharing the many wonderful things that God is doing here.
That will also be Day 1 of our prayer and planning for our next trip, so if you think God is calling you to come along next year, just let me know.  Thank you for your prayers, for taking the time to keep up with our little team from Trinity, and we're looking forward to seeing you when we get home! ~Pastor