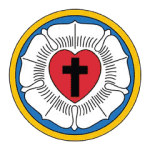 Martin Luther freely acknowledged that Paul's Epistle to the Galatians was his favorite book of the Bible. The great reformer lectured on it in 1519 and again in 1523; and in his table talks, he was reported to have said, "The Epistle to the Galatians is my epistle. To it I am, as it were, in wedlock. It is my Katherine." Later in life he commented, "If I had my way about it they would republish only those of my books which have doctrine. My Galatians, for example."
Through a new home Bible study being offered by Trinity Lutheran, people will have the opportunity to study what might be the very earliest epistle along with Luther's famous and penetrating commentary. This study will begin on Tuesday evening, April 16th and will be hosted by Jim and Katia Turner in their home at 1265 Vinton Avenue in Memphis. Trinity's Deacon, Douglas Morrison, will lead the sessions.
These meetings will take place from 6:30 to 8:30 pm, with the actual class time being from 7:00 to 8:00. The second session is scheduled for Tuesday, April 30th, and will continue on second and fourth Tuesdays of each month.
Please plan now to join us for God's Word and fellowship. For more information, please call Jim Turner (496-4737), Deacon Morrison (522-8666), or the Church office (525-1056).