Sometime fairly early in His ministry, Jesus comes across a Samaritan woman sitting at a well in a town called Sychar. I was going to retell it myself, maybe spice it up a bit, but John's version is funny enough on its own. Here it is…
'He said to her, 'Go, call your husband and come back.'
'I have no husband,' she replied.
Jesus said to her, 'You are right when you say you have no husband. The fact is, you have had five husbands, and the man you now have is not your husband.
'What you have just said is quite true.' 'Sir,' the woman said, 'I can see that you are a prophet.'"… … "Then, leaving her water jar, the woman went back to the town and said to the people, 'Come, see a man who told me everything I ever did. Could this be the Christ?'
They came out of the town and made their way toward Him." ( John 4:16-18; 28-30)
Our thoughts, our secrets, our great sins, and our embarrassing nights-out when we blew off way too much steam are all catalogued, searchable, and available to anybody who wants a window into our spirit.
This kind of thing doesn't really happen anymore. Gone are the days when we could hide our true selves away in a box somewhere to be opened only in the safe company of our family and closest friends; preferring most of the time to mask our nature behind a sterilized caricature of the way we wish we were.
When I was in college, I worked at an Executive Recruiting firm; I was a headhunter, helped people move from one job to another. This was back in the days of AOL when everybody only had one email address, each one connected to an AOL profile that was to Facebook what a Palm Pilot was to my iPhone.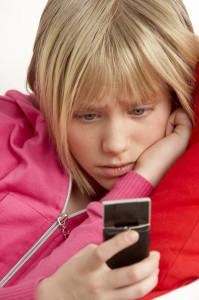 Every so often, I'd call up a candidate – somebody who had sent their resume into our office – and I'd say something like, "Hey listen, I saw your AOL profile, and…" which was usually interrupted by a timid and embarrassed, "Oh you saw that?" "Yeah, I saw that."
The truth is, we are at this moment more connected to each other than we have ever been in history. Our thoughts, our secrets, our great sins, and our embarrassing nights-out when we blew off way too much steam are all cataloged, searchable, and available to anybody who wants a window into our spirit.
The Samaritan woman's Facebook profile might read something like this: "Relationship Status: Married Five Times, now in a Committed Relationship with a Nice Man Who is Not Current Husband."
What was once reserved only for the Confessional, only for the ears of Jesus, is pretty much all out there for anybody to see. And I have to tell you, I absolutely love that. I love the authenticity of it. I love the spiritual vulnerability of it – the inability to hide behind our caricatures when we worship God together, and the sense of true belonging as we process our lives together in Christ Jesus.
The challenge, on the other hand – the difficulty – is this: Can we meet the authenticity, the vulnerability of our fellow sinners with the same grace that Jesus did?
After my little brother started following me on Twitter a few months ago, I offered him a courtesy follow-back, to which he replied, "Well… maybe not. I'll just read your stuff." As if what? Like I troll my Newsfeed looking for broken Commandments I can conveniently bring up at Thanksgiving dinner? But maybe, I think to myself, just maybe… that's the perception.
In John chapter 4, Jesus does something entirely remarkable; something we as His disciples could take a lesson from. He hears this woman's story – every sordid detail of it – and He meets her with the declaration, "I who am speaking to you, am the Christ" (John 4:26). In other words, "Daughter, welcome to the family."
If the Church is going to continue to speak for Jesus in the era of Social Media, we're going to have to come around to His way of thinking on this. We absolutely cannot deal in caricature. We've got to meet authenticity with authenticity. Authentic need with authentic grace. Vulnerability with the promise of true belonging. In other words, "Sister, Brother, welcome to the family."
The ship has sailed. We know each other better now than we ever have before, and there's no going back. My prayer is that the Church will meet our vulnerability and our unmasked selves with the same sense of welcome and belonging as Christ showed to the Samaritan woman; that He has shown to each and every one of us.