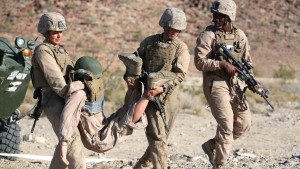 I just read the story of a young man who, upon joining the military, served as a Marine in Afghanistan. Being there in a war zone was such a shock. It was entirely different from anything he his buddies had experienced in his days in high school. He had never seen anyone dead, much less seen anyone be killed. There he was surrounded by it. He and his unit were under fire almost daily. People he didn't know trying their best to kill him. So much cruelty and hardship. He witnessed the terrible suffering of the ordinary citizens who lived there, who knew of little hope.
In spite of this, the young soldier volunteered to go back for another tour and in this second tour, he was killed. This young man had written a letter to his family, trying to explain his reasoning for his returning to the fighting. He wrote, "If not me, then who?"
Christ might well have asked the same question. He voluntarily left the comfort of heaven, and came into a world where he would suffer the pain and hardships that comes with life in a sinful world. He suffered pain and sorrow, grief and torment, temptation and feelings of abandonment. He came into the midst of suffering people who could not save themselves.
Christ, experiencing our world first hand and seeing and feeling their suffering might easily have asked, "If not me, then who?"
Almighty Lord, you came to us to join us in our suffering. Help us turn towards you always, trusting in your steadfast love. Amen.