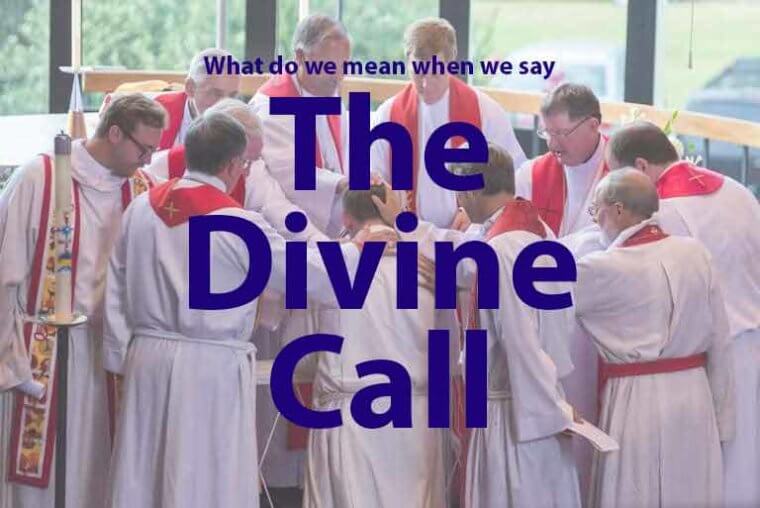 In initiating the process of calling our next pastor, we at Trinity Lutheran Church have entered into a season often marked with anxiousness, excitement, and uncertainty.  It is our hope and fervent prayer that it will ultimately lead to a time of joyful renewal for our congregation.  In this endeavor, we are not attempting to replace Pastor Hatcher, but to seek and discern the person that God sees fit to continue this wonderfully vibrant ministry in downtown Memphis, TN.  Indeed, Josh came to us and took up a baton that was passed on by those who came before him, and our next pastor will follow in that same line as we move forward.
The Divine Call Part 1  – God's Will and Plan for Us
In the Lutheran tradition, there are two elements to consider when seeking to understand the meaning of a Divine Call.  First, there is the obvious divine nature of the call itself.  God has given us the Office of the Holy Ministry as a gift of his abundant grace.  In this earthly realm, God always works through means.  Think about it.  We are loved and served by Him through our neighbor and earthly vocations, while water, written word, bread and wine serve as a his vessels of mercy towards us.  We as a congregation need to hear forgiveness preached into our ears as we are fed, nourished, and sustained by his true body and blood.  That is why the Office of the Ministry is primarily a Word and Sacrament function and the proclamation of the Gospel stands at the center of this reality.
It is definitely good and salutary to seek out a strong leader with adequate administrative capabilities, someone who can communicate clearly and excels at interpersonal relationships.  However, these are secondary qualities.  Our new pastor must be able to "deliver the goods" and shepherd us both Scripturally and Sacramentally, grounded in our Confessions while following in the loving footsteps that have been laid before him…the very path that has made Trinity Lutheran Church the oasis of grace that it is today.  It is God's will that we be forgiven and saved by Christ alone in order that we be free to love others and do the work he set out for us to do (Ephesians 2:10).   That ultimately sums up his divine plan for us, his Church.
The Divine Call Part II – The Process
The second element of the Divine Call pertains to the human function that seeks to carry out the particulars of the call process.  As I said before, God works through means.  As we move forward with this endeavor we will be guided by our District President, Call Committee, and Vacancy Pastor as a practical measure to ensure that everything happens in good order.  We pray for a harmonious process by which a candidate is identified who is properly trained and prepared for the ministry of leading our congregation.  He can come to us from a variety of paths, the two most common being a graduate of an LCMS seminary, or by being called to us from another ministry (like Pastor Josh).
The names of potential candidates will be provided to us by the District, along with resume packages for review by our Call Committee.  In addition to this, nominations can be received from members of the congregation as well.  Surveys are currently being disseminated and collected to determine the qualities and skill set that our congregation finds most important in a pastor.  These will be turned in to the District President for review.  In addition to the surveys feel free to speak your heart to our Chairman, Deacon, council members, elders, or committee members regarding what is important to you.  Now is the time to make your voice heard!  Ultimately the list of candidates will be narrowed down to those the Call Committee wishes to examine and interview for the position.
Remain Encouraged – God is with us
There will be meetings, surveys, interviews, and more meetings.  At times the process may seem slow and rather tedious.  Patience and trust are two very important components as we walk together.  It may take some time to find the right fit for Trinity's unique character.  In the meantime its important to trust our Call Committee to do their due diligence.  I think of it in terms of an airplane analogy.  There is a measure of confidence placed in the pilot and crew to get us to our destination safely because ultimately they are riding in the same plane with is.  The same is true of our Call Committee.  Pray for them.  We are all in this together.
Above all else, remember that we are guided by the hand of a gracious Heavenly Father who loves us.  The same God who sent his one and only Son to die for us so that we may have life in his name will not abandon or forsake us.  Jesus himself was forsaken so that we wouldn't have to be.  This is the Promise that we stand on every day.  We await the coming of our new pastor while we live beneath the shadow of the Cross together, basking in the love that comes with being a community built on hope, bearing one another's burdens along the way (Gal. 6:2).