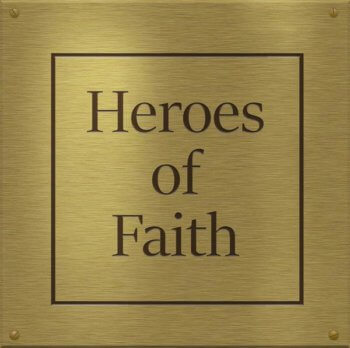 Who is your hero?
As a child, I might have named a TV actor, a star athlete or famous musician. Somewhere along the line I started to recognize the heroic qualities in ordinary people, like teachers and even parents. Nowadays, I'm more impressed with spiritual heroes, people who have modeled Christ for me.
While we all are saints by virtue of our baptism into Christ, some have proven to be outstanding "Heroes of Faith" for the church community as a whole. Back in 2002, Trinity came up with a way to acknowledge our congregation's spiritual heroes. Originally called the "Tree of Life" and now renamed "Heroes of Faith", it is located in Trinity's Fellowship Hall, near the front door. It has some 59 gold-colored leaves inscribed with names of families or individuals.
The guidelines for selection of names (as adopted by Trinity's Church Council), are that they should be Christian men and women who:
were at one time members of Trinity Lutheran, Memphis, TN;
died with faith in Jesus Christ as their personal Savior and Lord since 1975 when Trinity congregation made the decision to remain downtown Memphis;and
made a significant contribution to Trinity's mission and ministry through their dedicated personal ministry and/or through their estate.
These people are remembered for their generosity, for their leadership, for their service, for the example they set. A Nominations Committee meets periodically to consider who might be added to our "Heroes of Faith" display. The current committee of Mary Henderson, David Brugge, Paula Martens, and Martha Israel this fall selected several people to be added.
L.V. Schmidt was first and foremost an ambassador for Christ and for Trinity. A member for over 60 years and very often the first person visitors met, he also was a church officer, the "go-to" person for LCEF, and the chief chef for our Valentine's Day dinner.
Henry "Hank" Mowry was truly a faithful member, who held at one time or another every church office at Trinity, willingly serving wherever there was need.
Robert Spahn, used his skills as a carpenter and builder to make improvements throughout our church building. The renovation improvements we enjoy today would not have happened without Bob Spahn.
Greeley and Marjorie Parham, were faithful members of Trinity for decades and willing servants. Greeley served as a church leader and officer; Margie was active in the congregation's women's groups.
Richard and Janet Stewart provided financial support at critical times. Janet also was instrumental in providing the communion kneelers at Trinity's altar, coordinating the project and organizing people to do the actual needlework, and served many a delicious meal as chairman of the hospitality committee.
Bertha Huffman, was a faithful member of the Von Bora Circle, a ready volunteer any time help was needed in the church office, and served for decades as one of Trinity's counters, making sure contributions were correctly tabulated and recorded.
We give thanks to God for these men and women, and hope that their example inspires us in our own walk of faith.