This article first appeared on TrinityMemphis.org Feb 14, 2014
In July 1877, the Lutheran Synodical Conference assembled at Fort Wayne, Indiana, was challenged by its president to begin a program of Gospel outreach to Blacks and American Indians in the United States. The first missionary, J.F. Doeshcher, was commissioned the following October. He established the first Black Lutheran Congregation in Little Rock, Arkansas: St. Paul's Colored Lutheran Church.
Trinity's pastor, Rev. Henry Sieck, was chosen to be the guest speaker at the dedication ceremony.
Black missionaries moved throughout the South—forming congregations in Mississippi, Louisiana, Alabama, Florida, Georgia and Tennessee. Particularly in Alabama, the work flourished—in terms of total souls gained, of total professional church workers recruited and of total souls reclaimed after the migrations to the North and West.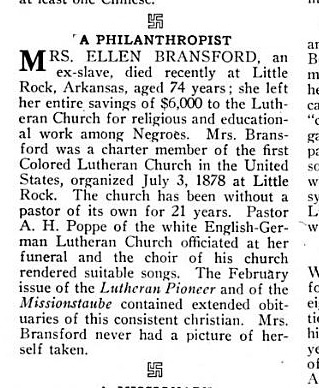 By the early 1920's, there were enough mission stations in Alabama, Louisiana, and Mississippi to organize a training school. So, on November 13, 1922, the Concordia Academy and College was founded in Selma, Alabama, by Rev. R. Ortho Lynn. The school was started originally to train future teachers for mission schools. Today, Concordia College, Selma, is a four-year college that prepares students with undergraduate education for a variety of careers.
Rural Alabama missions reached their height during the 1930s. However, the industrial revolution and changes in agricultural technology resulted in the decline of the densely populated rural areas of the South. Also, following World War II, Blacks began leaving the South—and the Lutheran Church—in large numbers.
It was not until the centennial of Black Lutheranism in 1977 that definite change was made. The loss of Black membership in The Lutheran Church—Missouri Synod was noticed and a concerted effort was made to restore the Black membership to its past numbers.
The Commission on Black Ministry was conceived and began work at the 1977 synodical convention in Dallas. The commission had a mandate "to plan, develop and administer programs; coordinate resources and mechanisms for expanding and promoting Black ministry so that the roles of Blacks in fulfillment of the Great Commission would be more visible and vocally impacted within The Lutheran Church—Missouri Synod."
The Black Ministry Convocation began meeting bi-annually in 1978 in Selma, Alabama.  Convocations have since been held in many major metropolitan venues in the United States.  In 1986 the Black Ministry Convocation began meeting annually and in 1993 youth began to be incorporated in significant numbers and the Convocation began taking its current form as "Black Ministry Family Convocation, a family event."
(reprinted from LCMS.org website)
Read about Immanuel Lutheran College, an institution dedicated to the education of Black teachers and ministers.
For a detailed look at the history of African-American Lutherans, read this short article in Metro Lutheran.