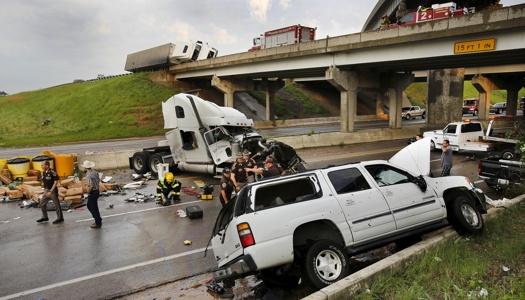 It would seem that the good people of Oklahoma can't catch a break. Here it is, early in their tornado season, and they have had two deadly tornadoes back to back. The pain is heightened because both tornadoes developed in front of us—live—on prime time television. We were able to agonize with the victims as they awaited their fate and we were able to join with thousands in prayer that a merciful God would prevent tragedy from striking.
And yet it did.
So where was God? What good were our prayers?
Gordon Lightfoot summed up the feelings of many of us when he sang, "Does anyone know, where the love of God goes, when the waves turn the minutes to hours?"
After all, doesn't scripture say, "Whatever you ask in my name, this I will do, that the Father may be glorified in the Son. If you ask me anything in my name, I will do it."? John 14:13-14
So what effect, if any, did thousands of prayers have? Where was the love of God? To make the sting even worse, we read mocking comments on social media sites like Facebook. "So where was your God when all of those people were dying? How can a, so called God of love, allow such evil to happen?"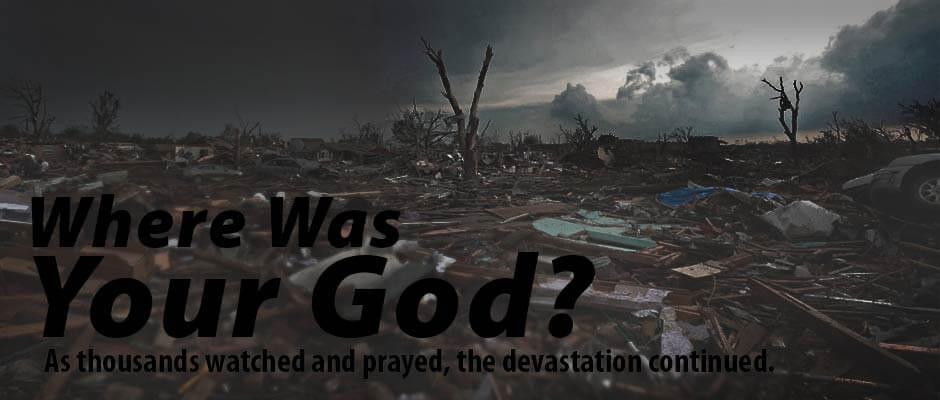 Where indeed?
"So where was your God when all of those people were dying? How can a, so called God of love, allow such evil to happen?"
I had a pet dog that went blind. In spite of her blindness, we still took her for walks around the neighborhood.  In fact, she quickly memorized where the end of the streets were and knew instinctively when to step down and when to step back up onto the curb.
However, as I guided her with her leash, I would sometimes have to pull hard to keep her from walking into a lamp post or street sign. Because I had never let her run into them, she had no way of knowing that they were there. All she knew is that sometimes she could walk along quite freely and sometimes she would tug hard at her lease as I tried to redirect her path. She couldn't see what I could see, and didn't know what I knew.
God is like that.
I remember taking my daughter to the doctor's to get an inoculation. She was old enough to know what a shot was and to know that she didn't like them. She begged me in heartbreaking tones to please not make her get the shot. I have always had a strong (some would say phobic) dislike of shots myself. My heart grieved for her, but I also knew the importance of the inoculation. I knew the danger and consequence of not getting it. In spite of her pleading, my daughter got her shot.
God is like that.
"And we know that in all things God works for the good of those who love him, who have been called according to his purpose."
In the Old Testament, young Joseph was his father's favorite child. He was apparently a brash and obnoxious kid, because his brothers hated him. They hated him so much that they threw him into a well, then later pulled him out and sold him into slavery. He was carried off into Egypt. There his life was tolerable, but things took a turn and he ended up in prison. His prayers to God seemed unanswered. It was eleven years after being sold a slave, that there seemed to come a break. Two of his fellow prisoners had dreams that God allowed Joseph to interpret. One of the prisoners would be returned as servant to the Pharaoh. He promised Joseph that he would put in a good word for him with his boss.
It was only after two more years passed that God allowed Joseph out of prison. Then he was made Prime Minister over Egypt. After another ten more years, he was restored to his family.
It took that many years of hard knocks for the brash and arrogant kid to become a wise ruler and a loving and forgiving brother. Joseph was the tool that God used to save Jacob's family from starvation.
God is like that.
Paul reminds us "And we know that in all things God works for the good of those who love him, who have been called according to his purpose." Roman 8:28.
From our poor vantage place here on Earth, we can't see the things that God sees, or know the things that He knows. God did not invent evil, but he uses the evil that is in this sinful world to bring about His will. God loves us and cares for us, but our way is not His way. If asked, Joseph would not have been sold into slavery and sent to Egypt. My daughter would not have her shot, and my dog would walk headfirst into a lamppost.
One of the worst pains that we must endure here on this sinful earth is to watch innocent people suffer and die. God knows all to well what that is like. He watched His own beloved son suffer and die on our behalf. God knows our pain.
But He has a plan, and we are in it. He has a plan for our lives. He has a plan that uses the suffering that we endure to make us stronger. He has a plan that will end the suffering and misery once and all for those that believe on Him. He does not relish our suffering anymore than he relished the suffering of His own son. He has a plan that will bring us safely home to be with Him.
God is like that.
_______________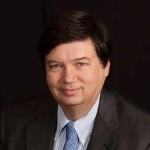 About the Author: David Brugge is a Layman at Trinity where he serves as an Elder. He attended St. Paul's College High in Concordia, MO. and Concordia College in Seward, NE.