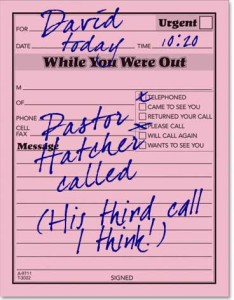 For those of you who have tried to get in touch with me, I apologize. Most likely I didn't get back to you, and I'm sorry. It's not that I think your call is unimportant [but let's be frank, sometimes they are], but it's just that I'm so disorganized. It has been very hectic since my mother died and then moved my father into a retirement village. I plan things that I am going to do for the day and something else always comes along. I stay busy, but don't seem to get much accomplished.
Believe me, I know how frustrating and sometimes aggravating it is to leave a message and not have it returned. I know, I know. I get mad about it when it happens to me. I just pray that you will be understanding, and patient with me.
God knows full well how frustrating it is too. He gives me spiritual calls all of the time which I never get around to answering. It's not that I think God unimportant, it's just that I have to take care of "more important" things before I can take the time out to answer him. I fully intend to get to him, I know it's important, but I confess all too often I get caught up in my own worldly troubles and put God on the back burner.
That's the great thing about God. His patience is unending. (2 Peter 3:15) He does not get angry with me the way I get angry with others. He remains patient. His love never wavers. He doesn't give up on me.
For the  many times I have ignored God's call, I repent. I pray for God's spirit to give me the strength and the will to do better.
And I promise to return my other calls as well.