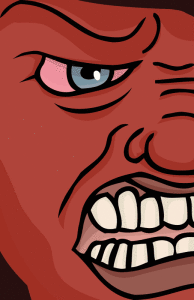 Have you ever shot someone or stabbed them in the back?  Have any of you beaten up on someone unable to fight back or stood by as others do so?
To my knowledge, none of my friends have done any of these things, at least not physically. But verbally? That's a bit different. However verbally beating up on someone is not like actually, physically beating them. Right? Not the way God sees it.
We like to see ourselves as very nice and easy to get along with. We having nothing but a kind thing to say to one another. We're always there to uplift a friend, kind to everyone we meet. Okay, I exaggerate. But we are basically nice people. Nice people who perhaps have a hot button topic or two that get us riled.
I watch my friends on the internet post pictures of kittens and favorite bible verses, witty sayings and words of inspiration. When their loved ones are sick, friends post words of comfort and promises of prayers. The internet is a popular place for people to offer Christian witness and to post links to devotions and sermons.
I see much too much tearing down and not near enough building up. I see myself.
But I watch these very same people lash out in the cruelest way against political figures, celebrities, people in the news, or and even acquaintances who disagrees with their viewpoint. It's as if there are two sets of rules. They will publicly sing their praise to God and spew their hatred within a span of minutes. They see no contradiction whatsoever. In their eyes, that malediction they just wrote was justly deserved. It has nothing to do with their love of God.
I see these people type mean, hurtful insults at others and join to gang up on someone who's opinion is different. I see people type snide or sarcastic comments aimed at those who they think are uninformed or misinformed on a subject. I see hateful, mean spirited, belittling speech. I see much too much tearing down and not near enough building up. I see myself.
Yes, I see myself. Perhaps I'm not as extreme as some, at least I hope that I'm not, but the sinner in me often on display for everyone else to see by what I say.
Many years ago the Apostle James wrote,
"All kinds of animals, birds, reptiles and sea creatures are being tamed and have been tamed by mankind, but no human being can tame the tongue. It is a restless evil, full of deadly poison,"
He was writing about me. God gave me intelligence and a quick wit. But I have sharpened it with the blood of others. I remember years ago, a co-worker that I barely knew told me how mean I was. I knew she was wrong. I'm a loving compassionate Christian. I turned to another co-worker and remarked, "She just doesn't know me very well."
This other co-worker looked at me incredulously. "David, you can be one of the cruelest people that I know." I looked at her to see if she was joking. She wasn't. I was shocked, but she was shocked that I didn't realize this. How can these people so misunderstand me? The question I should have asked is how can I so misunderstand myself.
Evidently it is easy.
Sin has a way of sneaking up on us. Be it rightful indignation, standing up for a principal, or expressions of moral outrage, our sinful nature corrupts our well-meaning intent and directs it away from God. It happens to all of us.
If you recognize a glimpse of yourself, then join me in this prayer I learned from Steve Mathewson.
God, give me discernment to know when to speak and when not to. Help me to curb the impulse to say the first thing that comes to mind. Help me to listen more and speak less. Most of all, though, clean the garbage out of my heart-and fill those spaces with what is pure and godly and positive and true. Fill those spaces with your Spirit! Amen.
---
David Brugge is a longtime member of Trinity where he serves as Elder. He is an author, teacher, and frequent contributor to Trinitymemphis.org. The opinions expressed here are solely those of the author and as such are not the official opinions of Trinity Lutheran Church, its staff, or the Lutheran Church Missouri Synod.