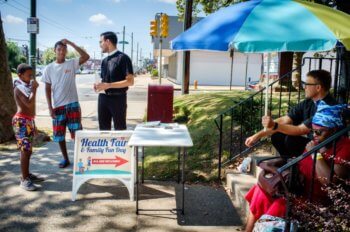 We know two things: (1) The U.S has become one of the greatest mission fields in the world as the number of "unchurched" grows. (2) Jesus commanded His disciples to proclaim a message of repentance and forgiveness, starting from the heart of the local city. But what about me in my daily life? Does the thought of making a defense to anyone who asks for a reason for the hope that is in you, send chills down your spine? Take heart. You have been equipped to tell others the Good News of Jesus Christ. You know how to confess your faith, and you practice it every week. On a regular basis, the whole Christian Church confesses the creeds that have been handed down to us. Yep, those very creeds and the confession of faith that you vowed to confess, are at the very core of bearing witness to Christ.
I met a 6-year-old boy once in West Africa who could recite all six chief parts of Luther's Small Catechism in one sitting. The young man couldn't read, so every single day he spent time with a catechist who read the catechism to him. At first, I thought, "Well, that's a really cool thing that he worked so hard to learn this." But by the third chief part, I had broken into tears. My pastor friend who invited me said, "He loves God." And he did. He loves God so much so that he spent hours every day to learn about Him and then tell others in his village. Love, learn, tell; this is no daunting task. It is who we are as the baptized. We have the treasure of the evangelist's greatest toolkit – the catechism.
"But how do I use it?" you ask. It doesn't have to be staged or confrontational. It's not a debate to win. It is our joy, the very nature of our faith, given by the Spirit, that we tell others. It is a confession that flows naturally from us who receive Christ. Our witness is an act of love and mercy for the people that God has placed into our lives. So let's start with work on Monday morning.
How do I witness to a coworker?
It's the start of the week, and you're standing at the water cooler. Someone asks what you did over the weekend. What if you told them what you witnessed just the day before? That from the moment the pastor called on the name of God, you stood on holy ground in a sacred place. Light shows and fog machines at the rock concert someone went to on Friday night pale in comparison. You had fire, smoke, the earth trembled beneath your feet, the Light of the world filled the room and the very Spirit of God hovered over the waters. And those waters? You witnessed the dead brought back to life in them; you saw the healing that transforms death and decay into resurrection and life eternal. You heard the voice of God thunder as the Son came to place Himself in the water in the font that cleanses and makes holy. And from the pulpit, a messenger called by God, convicted you of your sins and cut straight to the heart, but then he applied the healing balm of the Gospel.
And not only that, you could taste and see the goodness of God and the forgiveness of sins. You knelt at the semi-circle around the altar, where on the other half of the circle was heaven itself. The heavens were opened to gather at the throne with all the saints and angels. It may have sounded a little off key on your side, but on the other was the choir of heavenly hosts singing the heavenly antiphon. The plague of death fast approached, but you participated in the Lamb, the saving blood painted upon the doorway, in a meal that rescues and gives immortality. And when you left that place, all of your burdens were lifted up by those who came into communion with you, and all your troubles and worries and sins were buried by God that you might go out into the world to live, to love, to forgive, to die a blessed death. That, my friends, is witness. People will want to know where your joy comes from even in the dark days, how your messed up family still holds it together, how you have peace in the midst of it all. What if we told them? That, my friends, is witness.
How do I witness to my neighbor?
A neighbor might offer you even more opportunity to connect than a coworker. Just as we are told to love our neighbor, there are many possibilities to get to know and help them in our daily lives. Keep the catechism in mind, especially the Table of Duties and the 10 Commandments as they relate to the neighbor. We can certainly witness to our neighbors all that God has done in our lives, but don't be surprised if they seem guarded. Some anger toward the faith is really a fear of God and His judgment. Don't be surprised if their kindness, and confidence of the world hereafter, is based on what a good person they are. It takes the building of trust and establishing a relationship to get to know the real person, which helps to understand how to witness to them.
A neighbor might completely block the conversation, only for you to find out that he harbors a grudge against God. Divorced parents, the death of a loved one, world suffering . . . these are the things that lead many to close their ears to the Word. The good news is that you don't need to answer for God. His ways are not our ways, His thoughts not our thoughts. But you know that for the Christian, it is not a surprise that we face trials and tribulations in this sin-broken world. And yet God in His mercy sent His Son to make all things new. You know that the cross is the greatest picture of the depths of God's love, that His Son suffered the consequences of our sins, bore our transgressions in His own flesh and carried our cross on His own shoulders. And with every lash and nail, it was "I forgive you," and with every drop of blood, an "I love you." We are drawing others into the life of the Church, where they, too, can receive God's Word and Sacraments for the forgiveness of sins. For where there is forgiveness, there is life and salvation, and that, my friends, is what we witness.

How do I witness to my family?
Indeed "A prophet is not without honor, except in his hometown and among his relatives and in his own household" (Mark 6:4). Witnessing to family members is a tricky thing. To speak of holy things to those who know us, warts and all, can be difficult. Much of our public persona is unmasked with family, and we often hurt those who are closest to us. And to speak these eternal things can seem unnerving and awkward.
But there should be no more sense of urgency than for those most closely related who have condemned themselves by their unbelief. And for them, we plead daily that God might lead them to repentance and to be brought to faith in Christ Jesus. Because when it comes to family, we share in much, we sit at the table together, we are vulnerable with each other and have endured many a personal tragedy with one another. We share the joys of life just as we grieve and mourn as family. There may even be occasion that our own most terrible circumstances may cause a family member to question the existence of God. "How could a loving God let that happen to you?" she might ask. We can only confess to what we know and not the hidden will of why God has allowed tragedy and suffering to test and refine our faith. But what we do know is that while we may feel as though we don't deserve to suffer, we also have not deserved all the countless blessings that God has bestowed us with. And to be sure, God has not given us what we deserve as the punishment of our sin. No, instead God placed all of the punishment that my sin deserves on His own Son, to suffer and die and rise again that we, too, may follow Him through suffering and death to stand outside the empty tomb on the Day of the Resurrection. And all of our suffering will not compare to the uncountable joy that is to come. The day is coming soon, when the blessed eternal family reunion will arrive and the final tear will be wiped away. That, my friends, is witness.
How do I witness to a person I've never met?
Going from the extreme of witnessing to someone you have known your whole life to someone you don't know from Adam has its own challenges and blessings. Hopefully it won't be a drive-by relationship, and you can follow up, but there will be times when you have an opportunity to confess your faith to a complete stranger.
There are some misconceptions out there, like Lutherans are a cult or believe in another book like the Mormons. But what a history we have to tell! Did you know in the celebration of the new millenium, in the year 2000, TimeLife put out a top 100 people and events? Do you know what came in third, even above the discovery of penicillin or inventing indoor plumbing? Martin Luther!
The mantra of the Reformation sent shock waves with the blow of a hammer: faith alone, Scripture alone, grace alone, Christ alone. Few people know the history of the Reformation, but now we are on the doorstep of the 500th anniversary. So let's be ready! It may be as simple as someone asking what is different in what you believe about salvation. You pull out your pocket catechism and show them the second and third article of the creed to explain, and you leave it with them. Don't be surprised if they ask for an extra copy!
There is no shortage of opportunities to reach out to the broken and the lost. Acts of mercy abound that allow you to meet truly hurting people. And with our theology of the cross and understanding of the sanctity of human life, we–bar none—can give a message of hope, explaining how the least are first and those written off by the world are the apple of God's eye.
There's no "get your act together and come see us," no "clean yourself up and then visit." It's just one broken sinner inviting another into God's grace. So do it. Surround yourself with weird people, those not like you. Hug someone smelly. Share in their suffering. Tell the Good News to rich and poor, to the least and to the lost. You won't regret it. "Repent for the Kingdom of God is at hand!" It's time to tell the world, wherever God has placed you.
That, my friends, is witness.
This article was written by Rev. Steve Schave, director of LCMS Urban & Inner-City Mission and director of LCMS Church Planting.
**This article first appeared in the May 2016 print edition of The Lutheran Witness.