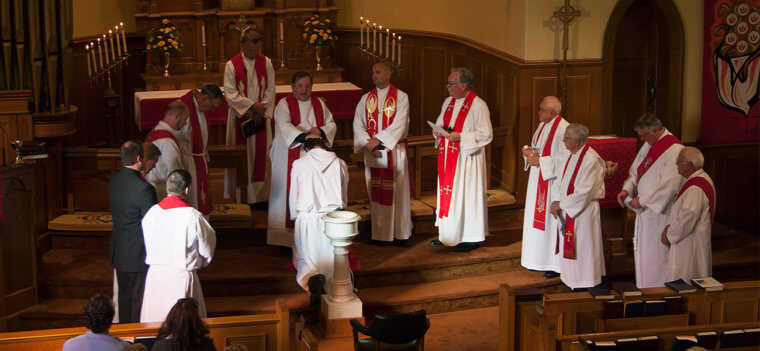 The Call Committee, led by Dave Chester, is back again to the task of finding a new pastor for Trinity. Our former pastor, Josh Hatcher accepted a call to Trinity Lutheran in St. Louis and left in December.
Mid-South District President, Roger Paavola has provided Trinity with a second slate of candidates, after few of the names on the first list met the committee's criteria.
Last month, the Committee brought in Rev. Neil Vanderbush and his wife from Texas for a visit and a series of interviews, however the process did not go as smoothly as one would have hoped. Rev. Vanderbush respectfully withdrew his name from consideration shortly after.
"We are going to proceed a bit more slowly," says chairman Chester. "I want to gather a many more names as we can so that we can have the best chance of finding a candidate that will be the best match.
"We currently have eight names before us. Two of them are from the previous list, two are from member nominations, and four are additional names provided by Roger Paavola."
From this list, the committee selected five names for further study and to conduct interviews over the internet. On contacting each of the candidates, two of them have recently accepted calls to other congregations and had to be removed from our list. The remaining three are scheduled to be interviewed this coming week. The Call Committee will be meeting as a group to speak with them, asking questions as well as answering them. The Holy Spirit guides us (as well as the candidates) in making a decision and the questions form an important part in both sides making their decisions.
After the Call Committee finds candidates that they feel would be a good fit for Trinity, the names as well as written profiles are submitted to the congregation. The congregation can then select those they wish to have come visit. The current plans are to fly the designated candidates and their wives in to Memphis. Then a series of meet and greets for each candidate individually would be held at a member's home and at the church so that everyone might get an opportunity to meet them and form an opinion. This is similar to the method used when we called Pastor Hatcher. The Committee is also considering inviting each of the candidates to preach a sermon at the Sunday worship service.
It is not too late to submit more names for consideration.  If you have friends or family outside of the Memphis area, contact them and ask them if they know of a minister who may be in a situation where there current ministry is winding down, or perhaps they are looking for a new mission opportunity, or just in need of a change to a new location. One never knows where the Holy Spirit will lead you in a search, but it is very hard to find such a candidate if the effort is not made. Names may be given directly to Dave Chester, or to any member of the Call Committee:  Mike Grant, Heidi Shafer, Bethany Sharp, Doug Campbell, Margo Wilkins, Mary Henderson, Vernetta Eddleman, Pete Wofford, and David Brugge.