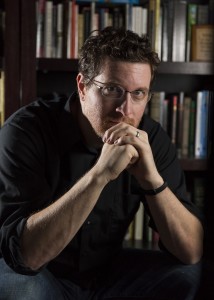 Welcome to Trinity's Website!  I'm thrilled that you've taken the time to explore Christ's work here in Downtown Memphis.  Trinity is a unique ministry where we truly are, as we say, "In the Heart of Downtown, With the Heart of Christ."
If you ask me, the great strength of our ministry is our authenticity.  We are, if nothing else, genuine in the joy of Christ's salvation.  His ministry among us is to real people with real problems, carrying the burdens of real sin.  You don't have to pretend here, you can be your true and authentic self here, bring your true and authentic struggles, and I promise you will encounter the true and authentic Jesus Christ!
Please take a few minutes to familiarize yourself with our ministry – centered around these five pillars: Worship, Study, Serve, Heal, and Belong.  If there's ever anything I can do to serve you, don't hesitate to call the Church Office or shoot me an email at pastor@trinitymemphis.org.  We are here to serve the Lord, and to serve you.
I would love to meet you personally, and invite you to come and worship with us, or to come be a part of any of our Fellowship and Bible Study gatherings.  Whether you're a life-long Lutheran looking for a Church home, or you're searching, just wondering what a life of faith can mean for you, you'll always find a warm welcome and a healing spirit here at Trinity!
Christ's Peace,
Rev. Josh Hatcher
Pastor, Trinity Lutheran Church