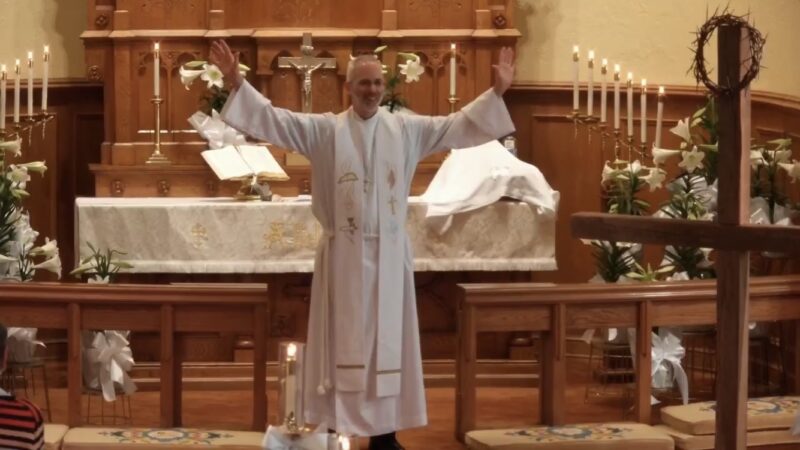 At Trinity we understand that it can be a little intimidating to walk into a new church, especially if you haven't been to church before or if you have never been to a Lutheran church, or it's been a while for you.  In order to make your visit as stress-free as possible, we've outlined some of the things you can expect when you come to worship with us, and answered some common concerns that we often hear.
How to Dress 🧢 👗
Some of our folks like to dress up, some dress casually.  We would never want formality, or lack thereof, to be a stumbling block for you to hearing the message of Jesus Christ. What's most important to us is that you're here.  Dress however you feel most comfortable, and know that we won't be worrying about it.
Where Do I Park? 🚘 
Adjacent to the Church acoss the street is a parking lot that Trinity Reserves for Worship services, Funerals, Wedding, and more. Parking is free during these times!
**As of October, 2019 we do not have the tokens to have free parking in the garage**
Where To Go Once You're Here? ⤴️  🚺
We have signs once you come through the door to point you in the right direction.  Whether you're headed to one of our Bible Studies or toward the Sanctuary for Worship, you'll always find signs or helpful people to direct you.
What is the Divine Service Like? ✝️ 🎶
We worship the Lord in and through the historic, traditional liturgy of His Church.  We are not, however, stuffy.  Our worship service is both laid-back and formal.  In other words, we worship the Lord through the traditional hymns of the Church, and in deep reverence for His mercy and grace He gives us through the liturgy, while at the same time making this traditional worship accessible to all people.  It is an exciting thing to be in the presence of Christ.  We pray you also will be edified and strengthened in His presence. We use the various settings in the Lutheran Service Book (the maroon book).
What About the Offering? 📝  
When you come as our guest you are free to give an offering if you like or we invite you to fill out a little information card so we can better serve your spiritual needs, and place that in our offering plate instead. When filling out the card, know that we respect your privacy and you will not be contacted unless you make a specific request for us to do so.
What About Communion?🙏🏽 
At Trinity, we celebrate Holy Communion every Sunday. The Scriptures teach us that we receive the true body and blood of Jesus Christ for the forgiveness of our sins and the strengthening of our faith.  At Trinity, we welcome all who share this belief to commune at Christ's altar.  However, if you're not quite there yet, we don't want you to feel singled out or uncomfortable in our worship.  We still welcome you to come forward with everybody else and fold your arms across your chest, indicating you'd like to receive a blessing from the pastor instead.  Don't worry, we do this all the time.
Will I Have To Stand Up and Introduce Myself?  🙋🏻‍♀️
In a word: No. You can expect some smiles and a "Hello, it's great to meet you" from our members, but we will never single you out as a visitor to the parish. You may be as welcomed or as anonymous as you like.
What About My Noisy Kids  🤱👨🏽‍🍼
At Trinity, we have a number of infants and young children who worship with their parents and grandparents.  We're used to and enjoy the noise they bring, and welcome all children to worship the Lord in this place.  We firmly believe the words of God recorded in Isaiah 55:10-11, "As the rain and the snow come down from heaven and do not return to it without watering the earth and making it bud and flourish, so that it yields seed for the sower and bread for the eater, so is my word that goes out from my mouth: It will not return to me empty, but will accomplish what I desire and achieve the purpose for which I sent it."
We also have a "Cry Room" located right off of the sanctuary, as well as a fully-staffed nursery should you need either of them.
What if I Say or Do "Something Wrong"? 📖
We hope you come to know the folks at Trinity as ordinary, friendly people who are here to welcome you.  There's nothing you can do to "mess up" our worship service.  It's easy to follow along with, and everything is carefully outlined in our worship bulletin for you in a way that's easy to understand.
Will I Be Pressured to Sign Up For Stuff? 📆
When you visit Trinity, please know that we're here to serve you and care for you both spiritually and emotionally.  You are welcome to be a part of any or all of our Activities, Bible Studies, Worship Services, Service Events, etc., but rest assured we won't try to pressure you, but instead allow you to get to know our ministry at your own pace.
What if I Don't Know "Church-Speak"? 🗣
We're here to grow in faith, not to show off our knowledge of the faith.  If you have questions, concerns, or needs, our pastoral staff is here to answer them and to meet them.  Whether you're a life-long Lutheran looking for a Church home, or you've never set foot in a Church before and are just looking for something more in your life, you'll find a warm welcome and an unintimidating worship experience here at Trinity.
But I'm a Really Bad Sinner… 🤷🏽‍♀️ 🤷🏻‍♂️
We hear this objection more than any other.  Please know, dear friend, that Christ's Church (and therefore, this Church) is a hospital for sinners, not a museum for saints.  You are more than welcome to bring your Sins, your Hurts, and your Baggage; that you might come away with Christ's Forgiveness, His Life, and His Salvation.  Jesus says in John 6:37, "Whoever comes to me, I will never drive away."  Neither will we drive you away.