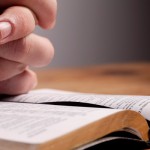 I will meditate in your precepts, and have respect unto your ways. – Psalm 119:15
T
here is nothing more important in the life of a Christian than the study of God's Word. It is through the Word that God speaks to us, and it is through His Word, that the Holy Spirit strengthens our faith.
Without continual study and meditation of God's Holy Word, we are in danger of letting our faith diminish. Trinity offers many different opportunities to study the scripture and to meditate on His Word.
Sunday Morning Bible Study
No matter what your level of knowledge or your degree of faith, there is much to be gained here on Sunday mornings.
Learn more...
Sunday School
Teaching children to know God's love has been a vital ministry since Trinity first began. Today's Sunday School offers…,
Learn more...
Home Bible Study
Many enjoy gathering with friends and neighbors in an intimate setting to study God's Word.
Learn more...
Confirmation
About the time a young person enters the seventh grade, they are ready to prepare for their Confirmation.
Learn more...
Vacation Bible School
Kids always look forward to the time of year when Bible stories are supplemented by songs, skits, and fun craft projects for a time of intense study of the Word of God.
Learn more...
Online Study
Does your schedule prevent you from attending Church? Not quite ready to join with others in worship? A series of self-guided Bible Studies are available.
Learn more...