Children's Sunday School Classes: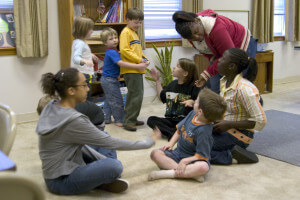 Summer Sunday School
This summer, we are offering one inter-generational class for children and adults covering a variety of subjects.
L.Y.F.T. (Lutheran Youth for Truth) High School (9th – 12th Grade

Trinity is blessed with an active and vibrant High School Youth Group that meets for Bible Study on Sundays from 9:15-10:30 am, and for fellowship gatherings every month.
Elementary School (K – 4th Grade)
Our Elementary Sunday School curriculum brings worship alive with lesson, craft, and game that connects with the day's Lectionary (Bible) Readings that the kids will hear in worship. This is a great way to add meaning to our kids' Sunday Morning Experience by letting them engage with what they'll hear in "Big Church" in a way that's accessible to them.
Pre-School  (2-4 year olds)
Our Pre-School class is all about fun and learning in a way that our little ones can relate to. There will be Play-Do. Lots of Play-Do.