Regular Schedule for Sunday Services
Sunday School & Bible Study – 9:15 am
Sunday Morning  Worship Service – 10:30 am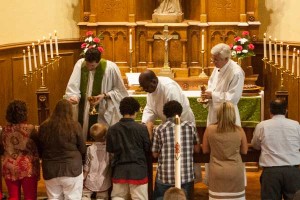 Worship is not a spectator sport. In fact, the word "Liturgy" – used to describe the order of worship, literally means "work of the people." At Trinity, our worship experience is an hour (or so) long snapshot of our life in Christ Jesus: We first and foremost receive the gifts of Christ – forgiveness, mercy, and grace, and in return we offer up our prayers and praise in thanksgiving in a responsive, engaging way.
We offer a worship experience founded on the historic liturgy and hymnody of the Lutheran Church, and based on the Orders of Worship found in the Lutheran Service Book. The hour or so we spend together around the Altar and in the presence of Christ is the most exciting and meaningful hour of our week. Because of this, our worship is also inspiring, strengthening, and yes – even a little bit of fun.
Our sermons focus on the living and active Word of God, and how He brings His grace to us through Jesus Christ even today, and meets us right where we are.
COVID-19 Precautions We Have In Place – Please maintain social distance of at least 6 feet; please don't sit in pews that are roped off.  The back two open pews on each side are reserved for those most comfortable being behind others who might take off their masks during the service. Please wear a mask when entering and exiting the building; wearing a mask is encouraged for the service. If you plan to sing, please wear a mask; if you are not wearing a mask for sung portions of the service, please do not sing; take your worship bulletins with you when you leave; wash hands and/or use hand sanitizer regularly.