---
Welcome to our website.  We are glad you are here! You've come to a place where you can learn about a church that will help you experience a real God with real grace for your real life, a place where you can connect with our Savior and His people.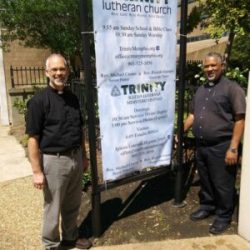 ---
SPECIAL SERVICES AND EVENTS THESE ADVENT AND CHRISTMAS SEASONS
Trinity Serving as Spectator Spot and
Cheer Station for St. Jude Run
Saturday, December 4, 2021, 6:00 11:00 am.
Youth and Adult Christmas Caroling
(Congregation Invited)
Saturday, December 11, 2021, 3:00 pm.
---
MID-WEEK ADVENT SERVICES
"WAIT UPON THE LORD"
Services on Wednesdays at 7:00 pm
Dinner prior to each service at 6:00 pm
Wednesday, December 1, 2021
"Wait Upon the Lord with Faith"
In this first Wait Upon the Lord service for Advent, we wait upon the Lord with faith. Abraham and Sarah waited with faith for the birth of their son, Isaac, and we wait with faith for the birth of God's Son, Jesus, trusting that he will come at Christmas to save all people.
Wednesday, December 8, 2021
"Wait Upon the Lord with Hope"

Wednesday, December 15, 2021
"Wait Upon the Lord with Rejoicing"

Wednesday, December 22, 2021
"Wait Upon the Lord with Gratitude"

---
SPECIAL CHRISTMAS SERVICES AT TRINITY
Children and Youth Christmas Program
Sunday, December 19, 2021, 10:30 am
Christmas Eve Candlelight Service with Communion
Friday, December 24, 2021, 6:00 pm
Christmas Day Service with Communion
Saturday, December 25, 202, 10:00 am
---
ON HOLD
Trinity Lutheran Church
Spanish and English Classes
Free and Open to the Community!
We are are offering the following classes every Saturday on a regular basis until December.  Classes are held in the Fellowship Hall so there is plenty of room for social distancing.  Please bring your friends and join us!
The Spanish as a Second Language begins at at 9:30 am and the English as a Second Language class at 10:45 am. Both will be led by our own Ingrid Mendez.
If you wish to register for either of these classes, it's not too late. Please email Peggy Fitzgerald at office@trinitymemphis.org
TRINITY'S COVID PLAN FOR PUBLIC WORSHIP SERVICES
Covid Protocol – Due to the recent increase in Covid cases and in consideration of community protocols which went into effect this week, the pastors, elders, and council in consultation are recommending the following changes to our Covid precautions:  1)  Social Distancing be observed by all.  2)  For the unvaccinated, wearing of a mask is highly recommended at all times including entering and exiting church, in common areas where contact with others takes place, and during worship.  3)  For those vaccinated, wearing of a mask is highly encouraged when entering and exiting church and in common areas with others.  Masking is encouraged during worship.
---
VACATION BIBLE SCHOOL
Trinity's 2021 Vacation Bible School brought fun, laughter, and blessings to the kids who attended, as well as the teachers, ministers, and many others who worked diligently to make it a success! This year's theme was centered around the Rocky Railway which illustrated how Jesus' power can get us a through the mountains and valleys of life.
Click on the picture below to start the Slideshow or Click  Right Arrow to Advance to the Next Slide:
---
Trinity Lutheran Church
210 Washington Street
Memphis, TN. 38103
901.525.1056

DOWNTOWN MEMPHIS!