---
Welcome to our website.  We are glad you are here! You've come to a place where you can learn about a church that will help you experience a real God with real grace for your real life, a place where you can connect with our Savior and His people.
VACATION BIBLE SCHOOL
Trinity's 2021 Vacation Bible School brought fun, laughter, and blessings to the kids who attended, as well as the teachers, ministers, and many others who worked diligently to make it a success! This year's theme was centered around the Rocky Railway which illustrated how Jesus' power can get us a through the mountains and valleys of life.
Click on the picture below to start the Slideshow or Click  Right Arrow to Advance to the Next Slide:
---
Trinity Lutheran Church
210 Washington Street
Memphis, TN. 38103

DOWNTOWN MEMPHIS!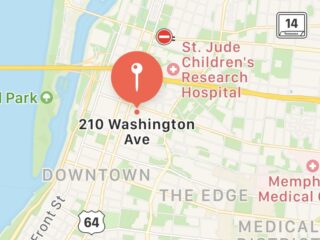 ---
TRINITY'S COVID PLAN FOR PUBLIC WORSHIP SERVICES
Update 4
In light of the recent slowing of the pandemic and subsequent changes made to health and safety recommendations by the CDC and our local health department, we will be observing the following precautions for now.  Changes to existing protocol are in bold.
First, when entering and exiting the building, as well as during worship, classes, etc., masks are now optional for those who are vaccinated and "highly recommended" for those who are not vaccinated.  Note:  At this time we are still requesting everyone mask for singing during the service, whether vaccinated or not.  If you prefer not to wear a mask at all during the whole service, please do not sing.  …  Second, we still ask that everyone maintain 6 feet of social distancing at all times.    …   Third, we continue to livestream the service during the 10:30 time for those who are unable to attend worship.  This obviously does not replace being gathered with the body of Christ in Church, but it does allow anyone to participate in worship who is not able to come for health or other reasons.  As a reminder, you can go to our Facebook page – TrinityMemphis – to access the service.  Also, we will continue to post the worship bulletin and Trinity Today on our website if you would like to use them to follow along with the service.  …  Fourth, we are going to resume offering the common cup for Holy Communion as of June 6, 2021.  No one should feel obligated to receive Christ's blood from the cup, but it will be available if you choose to.  We will be adding additional precaution for this.  For a full description of Holy Communion, see the procedures we are following below.  …  Fifth, we will be resuming use of hymnals.  This will begin on Sunday, June 6.  …  Sixth, if you have been diagnosed with Covid-19 or been around someone who has been diagnosed and have not been cleared from quarantine, or if you have any symptoms of illness (coughing, trouble breathing, fever, etc.), out of respect for the health of others, we respectfully request that you not attend worship until you are well.  Also, as it pertains to attending worship, classes, and all other events, you are choosing to participate at your own risk.  The church is not responsible for any contraction of the Covid-19 virus or other illnesses which may occur from participating in congregational events.  …  Seventh, if you are a person who is at higher risk to contract Covid-19, such as being immunocompromised, having respiratory or heart conditions, etc., we encourage you to consider staying home and watching the livestream for your own health and well-being.  …  Eighth, we ask that you take your bulletin home with you after the service and dispose of it yourself or place it in the recycle basket on the floor just outside the sanctuary in the narthex.  …  Ninth, for the time being the nursery is available for use but will remain unstaffed during services.  We are hoping to begin staffing the nursery very soon.  We are still keeping the "busy bags" for young children unavailable for now but also hope to offer those again soon.  …  Tenth, we are resuming availability of coffee before and after services and classes.  Our Hospitality Board is working to make this safe for everyone.
Here are a few other requests / considerations.